Mobile Phone Sanitiser
Keep your mobile phone safe from germs, bacteria and viruses with the world's no.1 nanotechnology antibacterial screen protector.
A study in 2017 showed that our mobile phones can be ten times as dirty as a toilet seat! Other studies found that they can be home to some serious pathogens, germs and bacteria including Streptococcus, MRSA and even Coronavirus.
A simple weekly wipe deposits an ultra-thin layer of glass (500 times thinner than a human hair) on your mobile phone screen which protects against many threats to our health including coronavirus, HIV, Ebola and Influenza. A full list can be found here.
Once dry, this active layer will continue to kill the pathogens which are deposited on the surface of your mobile and will also make your screen easier to clean between applications. 
Each pack contains 12 wipes, suitable for all mobile phone and other touch screen devices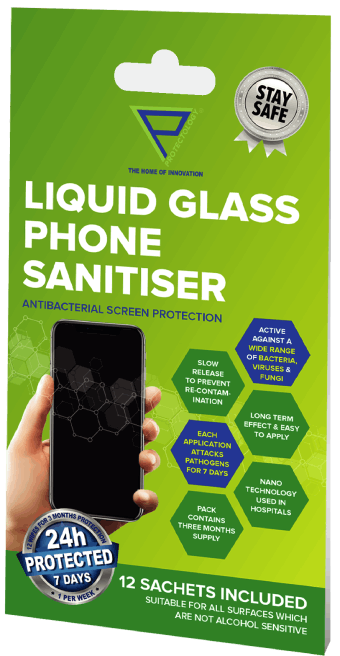 Easy to apply and easy to clean
Just 1 wipe continues to neutralise pathogens, bacteria and fungi for 7-10 days
Slow release sanitiser keeps your phone safe and sanitised 24/7
Prevents re-contamination and continually attacks a wide range of viruses (full list here)
Medical grade technology used in hospitals throughout the world
Provides a super smooth surface that is easier to use and clean
12 sachets included in each pack to keep your phone safe for 3 months
Less than £1 per week

12 x Sanitiser Phone Screen Wipes 
Watch our videos
The ultimate sanitiser for your mobile phone
---
How to use the phone sanitiser
I have been looking for something like this for a long time to keep my phone professionally clean! Protecting and helping to stop it from cracking is a nice bonus that i wont turn down! After ordering, one was promptly delivered and easily applied, feels so much fresher and ultra clean. Great new product. Thank you
Peace of mind at last! A bespoke sanitiser for my mobile phone, fully tested to operate 24/7, makes me feel safe from viruses getting on it. Great service, crisp and clear packaging. I've even used one sachet on my laptop as well, and that feels cleaner and safer too.
I have used your Liquid Glass Phone Sanitiser and I must say it has exceeded my expectations. I am always a little sceptical about the performance some companies claim about their products but I have to say, having used this product I feel it fully deserves the descriptions.
World class nano technology coatings – satisfaction assured