Liquid Glass Screen Protection
Our Liquid Glass Windscreen Coating uses the latest nanotechnology to protect your glass, making it tougher, easier to clean and less susceptible to grime and dirt.
Water will bead on the screen making it easier to see through when it's raining, and at night, glare from oncoming headlights and other lighting will be reduced.
You'll notice your screen doesn't need cleaning so often and when you do clean it, no chemicals are required.
The liquid glass coating is easy to apply; everything you need is in the pack and it only takes a few minutes to apply. The coating is suitable for all kinds of vehicles including vintage cars, caravans, lorries and boats and will last 12 months.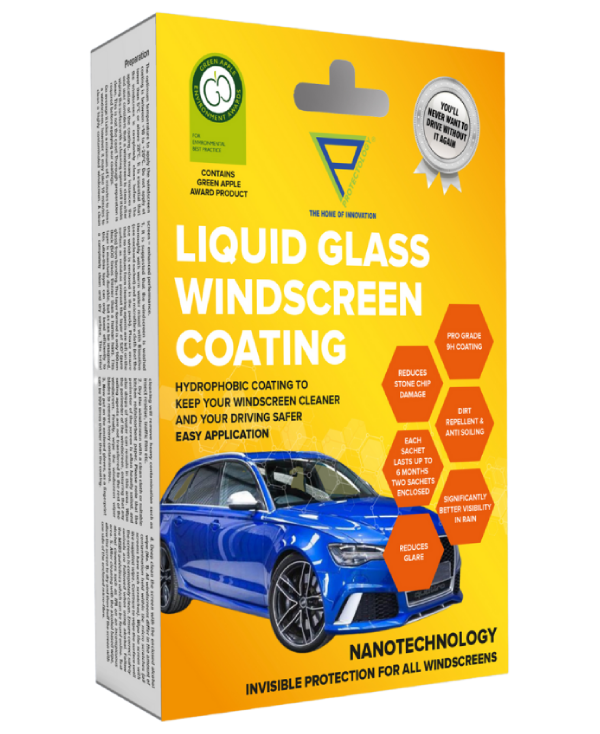 Strong hydrophobicity (water beads off)
Significantly better vision in rain
Increases transparency for SAFER driving
Reduced glare and light distortion at night
Self Cleaning Effect for higher visibility
Easy to remove bugs and insects
Reduces Stone Chip Damage
UV-stable with enormous abrasion resistance
Resistance to temperature changes
High durability - up to 20,000 km / 12 months under normal conditions
Suitable for front and side windows
The kit Contains a Green Apple Award Product

2 x Protectology BioSativa Surface Cleaner Sachets
2 x Pre-Cleaning Wipes
2 x Windscreen Coating Wipes
1 x Microfibre Cloth
2 x Application Gloves
Watch our videos
The ultimate windscreen protection kit
---
Windscreen coating in the rain
Being very sceptical on what I put on my vehicle I was so impressed with the results of liquid glass windscreen coating excellent visibly in wet weather. A must buy product.
It was so easy to apply the Liquid Glass windscreen coating and then the following day drive through the rain and see the beads of water disperse giving me clearer driving visibility. Great nanotechnology.
I used the kit on my 4x4 Landrover Freelander as the large windscreen get covered in bugs. After treating the windscreen with this product the bugs just come away with the windscreen wipers and visibility is so much better especially when driving in the rain. 
World class nano technology coatings – satisfaction assured